Fiverr

as Online Income Earning Method
Fiverr is a website where users register, create a profile for themselves and start to offer their various services. You can find designers, web-developers, translators, marketing specialists, copywriters, SEO specialists, artists, social media professionals, video editors, musicians, programmers, life coaches, business consultants, assistants, and a lot more different people from all around the world, all of whom offer their service.

If you can provide any services, or if you need the services of others, you are in the right place at Fiverr. There is a good chance you will find the service provider you need, usually for a reasonable price.

In the following articles, we will take a quick look at the pros and cons of Fiverr, also giving a short step by step guide to get you started.
How to register on Fiverr and upload your first service offer called "gig"?
To register on Fiverr, please click on the button below. Fiverr will open in a new window so you can keep following our guide.
How to Register on Fiverr as a Seller?
Clicking the button above, you will find yourself on the fiverr.com homepage. Click Join in the top right corner and follow their instructions. You can set up your account in a few minutes.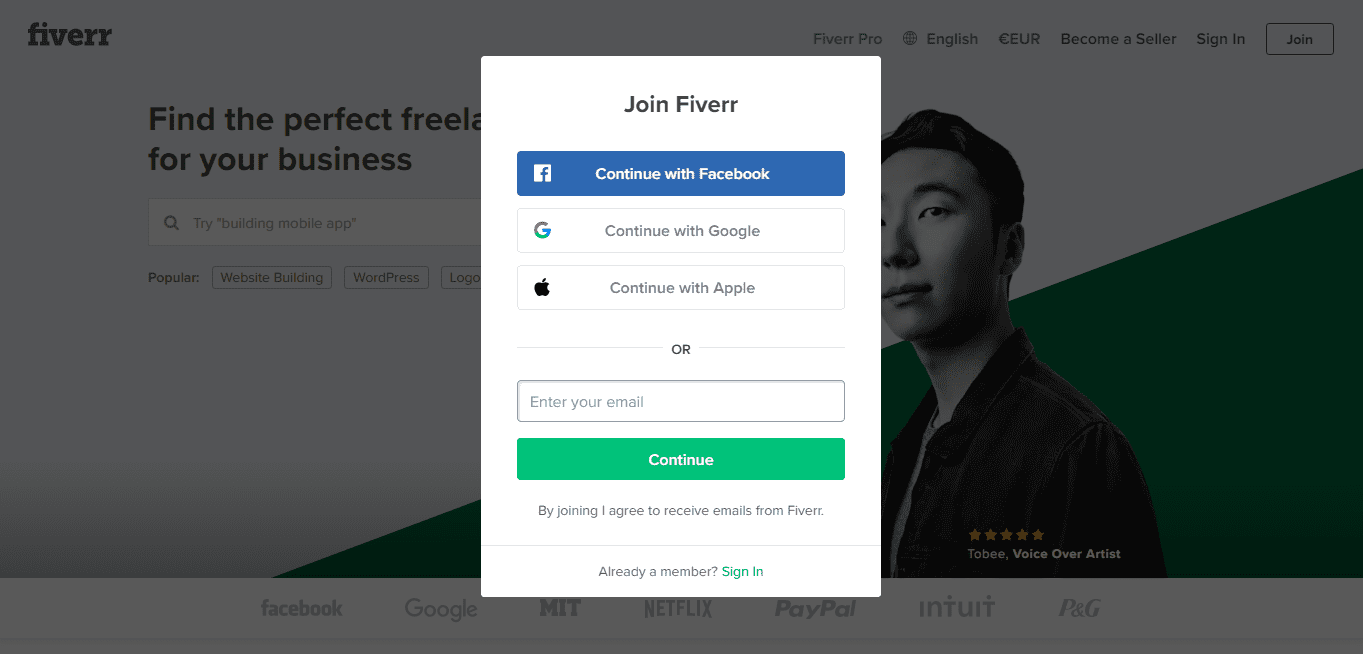 After registration, check your messages on the dashboard as you might get promotional discounts with your first order!

On the top menu, click on "Become a Seller".

You will find yourself on a detailed explanation page with a video.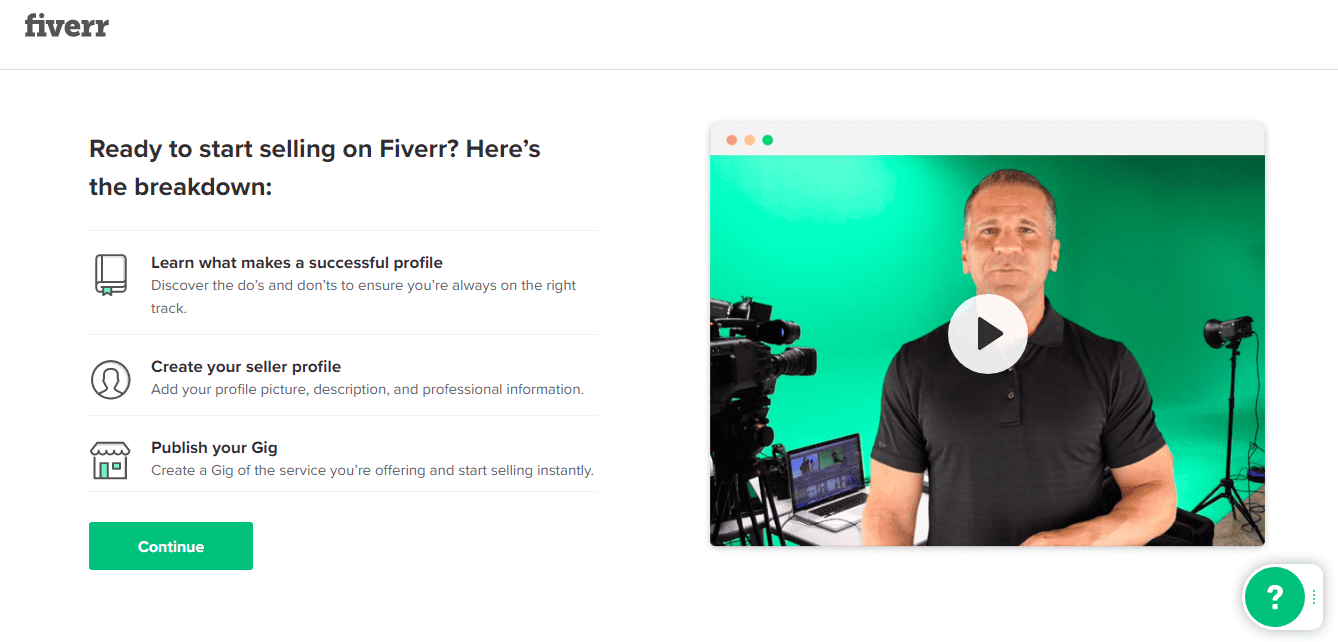 Click Continue a few times, read the information on each page. Fill out your personal information, professional details, your skills, etc.

At the end of the process, you have to verify your account with your phone number.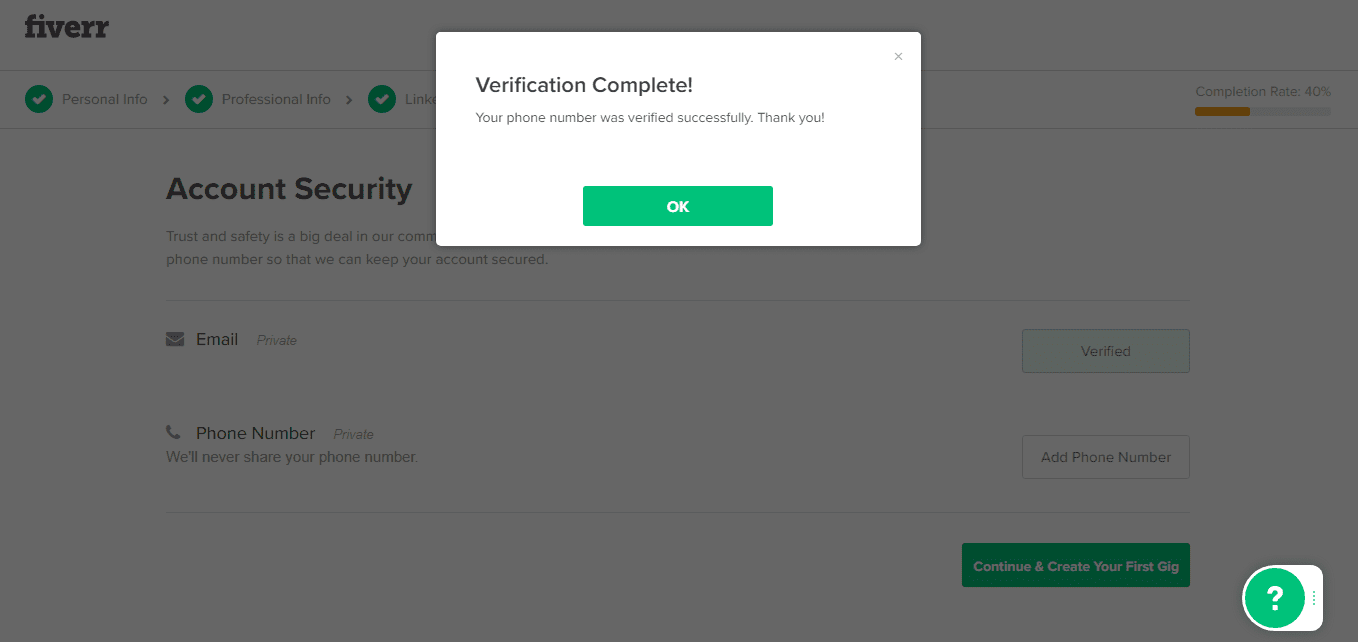 After choosing a security question, you can click on the Finish button, and you will find yourself on a page where you can create your first service offer - or with another name - a gig.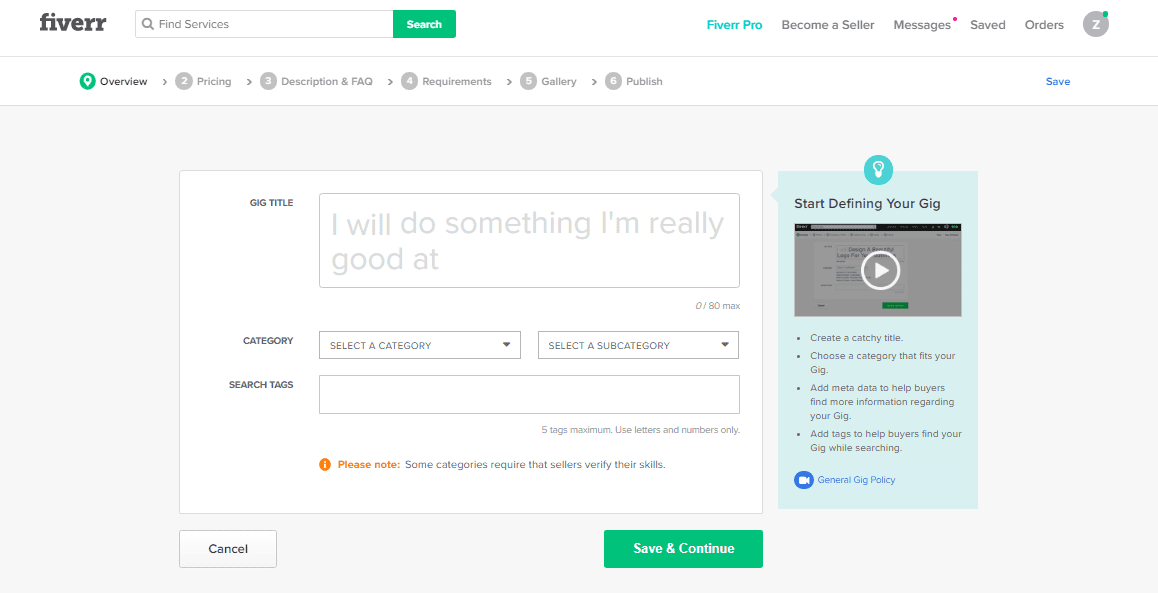 It is a good idea to look at the descriptions of various services to get ideas. Fill out all the pages of your offer - description, packages, price, etc. Wherever you stuck, click on the video for help.
Our Experience about Selling on Fiverr
The first thing one can notice is that there is enormous competition for customers. Whatever you offer, there will always be someone who has a similar service - for half of your price, or if it is for the same low price, then they offer a double quantity of work.

Do not be surprised if you can not even get a single customer. Fiverr advise sellers to promote their gigs on their own Facebook page between friends. But telling the truth, one can do that even without Fiverr involved.

Our other negative feeling is about the money deductions from our earnings. As mentioned above, Fiverr does not promote your services outside of their website, so it is questionable why they deduct so much of your hard-earned money.

Fiverr charge 20% fees on every order. But that is not enough. They even charge to buyer $2 as a service fee if the purchase was below $40. Above $40 purchase buyer pays 5%. So, if you sell a service at $5, then the buyer needs to pay $7, and you will get $4. Well, in that scenario, it is 43% profit for Fiverr.
On this gig above, we have offered the customer a $59 price for one of our services. They charged the buyer at $62, and we have received $47. That is a 25% profit for the Fiverr.

On top of all, you even have to wait 14 days for your earnings after your gig has successfully ended. You also need to include your Fiverr income in your tax return if it reaches the threshold in your country.

Sellers with zero business made - has zero reviews.

It also means that it is difficult to get to the top of the lists on Fiverr, as they are ranked based on the star ratings and reviews of the service providers. At the top of the lists are often the services of people who have thousands of ratings. It is almost impossible to compete with them.

There are articles on the Internet claiming that top sellers on Fiverr have so many orders that they can not even perform them, so they find some other sellers on Fiverr to do the job - for a lower price than they get from their customer. So, this way, top sellers get the order, but someone else does the job, and top sellers make a profit on it. If it is like this and Fiverr doesn't even do anything to change this, then don't expect big success as a beginner seller there.
How to Earn on Fiverr then?
If you are not offering some exceptional service, the best is to use Fiverr to search and use the services of others for your projects.
You can use the services found on Fiverr for projects that make a profit for you, such as your blog, website, YouTube channel, and more.
Another way to get an online income is to become an affiliate partner of Fiverr and promote their site - as we do it here in this article. If a customer goes on Fiverr through our link and purchases a service, we get a one-time commission.
Read more about Affiliate Earnings on our dedicated page.